It is a fact that eating a healthy, well-balanced diet is really good for us. A healthy diet keeps unwanted pounds at bay, and has been linked to lower risks for certain cancers in some studies. Doctors often advice men to make serious changes in the way they eat, especially those who are suspected to be at risk for developing prostate cancer or those who are discovered to have suspicious prostate nodules or other symptoms. The risk for prostate cancer may be lowered in healthy men if healthier dietary changes are made at an earlier time and even with a positive cancer diagnosis, a good prostate diet will still be a necessary part of the treatment.
The Perfect Prostate Diet: Is There One?
Although there is no official nutritional guideline made specifically for prostate cancer treatment, doctors advice a well-balanced prostate diet that is low on saturated oils and fats, processed meats, sugars, and high on fresh fruits and vegetables. One study conducted by Swedish scientists and published in the Cancer Causes and Control Journal revealed that the most effective diet for combating this type of cancer is a prostate diet composed of phytoestrogens, substances from plants which have a weak estrogenic effect. Phytoestrogens are taken up by the same parts of the body which naturally produce estrogen. Estrogens, incidentally, are used in conventional treatments of prostate cancer, specifically androgen ablation therapy to reduce the levels of male hormones in the body. Although estrogen can cause negative cardiovascular effects when taken by men in large doses, the small dose found in plants may be beneficial in the prevention of prostate cancer.
The consumption of meats and dairy products should be curved when one is following a good prostate diet. It has been shown that daily consumption of meat triples the risk for prostate enlarging and daily consumption of dairy products, even milk, doubles that risk.
The ideal prostate diet is one which is also rich in antioxidants, substances which are readily found in fresh fruits and vegetables. Antioxidants play a major role in the body's immune system and are known to fight off cancer. In a 1995 study conducted by Harvard, it was found out that men who ate at least 10 servings of tomato-based foods per week reduced their risk for prostate cancer by 45%. The protective agent in this case is believed to be lycopene, a natural antioxidant found abundantly in tomatoes.
In effect a good prostate diet should be one that contains fresh and plant-based foods, since these contain antioxidants and natural vitamins and minerals which all play a protective role in keeping the risk for the disease as low as possible.
Even despite the positive diagnosis of prostate cancer, a prostate diet can still improve the quality of life of the patient. A healthy prostate diet is a necessary complement to any form of cancer therapy and can possibly help slow down the progression of the disease.
---
More On Prostate Tips...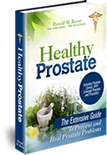 Healthy Prostate: The Extensive Guide To Prevent and Heal Prostate Problems
This ebook also includes everything you need to know about prostate cancer, BPH enlarged prostate and prostatitis.
Click Here To Check It Out
Share Your Thought
You must be logged in to post a comment.