You are here: Home > Prostate Cancer > Exploring The Risk Factors and Causes of Prostate Cancer
Prostate cancer will affect many men and it is important to understand the risk factors and causes of prostate cancer. It is believed that there are several things that need to be taken into consideration including, race, diet, age and genetics.
Medically it is thought that the normal ageing process is one of the main causes of prostate cancer. Although young men can be diagnosed with prostate cancer the average age for this diagnosis is 60.
A man will be at risk of being diagnosed with prostate cancer if there is a family history of the disease. If you have a male relative such as a father, brother or uncle that has been diagnosed with prostate cancer then you should make sure that your health care provider is aware of that. There is also some evidence that a man could be at risk of developing prostate cancer if there is a family history of women with breast cancer.
Scientists are researching the genes that could be responsible for prostate cancer that is inherited. These genes are known as Hereditary Prostate Cancer Genes 1 and 2 and HPCX.
Some people also believe that another of the causes of prostate cancer is diet. It is thought that a diet that consists of lots of saturated fat may increase the chance of your developing prostate cancer. Along with a diet that is high in calcium. There has also been some evidence that obesity increases the risk of aggressive prostate cancer.
Smoking cigarettes is also thought to be one of the risk factors involved with developing prostate cancer.
There has been some thought that toxins and substances in the environment from industrial sources could be another of the causes of prostate cancer.
Although not fully understood as to why but it appears that race may be one of the causes of prostate cancer. Statistically it has been shown that African-American and African-Caribbean men stand a much higher chance of developing prostate cancer than those who are Asian or Caucasian.
Although not one of the causes of prostate cancer the male hormone testosterone is known to feed its growth. To combat this some treatments for prostate cancer are designed to block the body's testosterone production.
To lower the risk of developing prostate cancer you should eat a healthy diet that includes plenty of fresh fruit and vegetables, if you smoke, quit and should you have a family history of prostate cancer or breast cancer make sure that you have regular prostate exams.
---
More On Prostate Tips...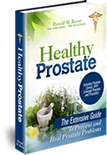 Healthy Prostate: The Extensive Guide To Prevent and Heal Prostate Problems
This ebook also includes everything you need to know about prostate cancer, BPH enlarged prostate and prostatitis.
Click Here To Check It Out
Share Your Thought
You must be logged in to post a comment.