An enlarged prostate plagues many men in the later years of life, with age becoming one of the primary enlarged prostate causes. If you are experiencing the side effects of an enlarged prostate, you know how bothersome those symptoms can be. Getting up many times at night to urinate can result in fatigue that makes you susceptible to other forms of illness and affects your mood.
The inability to empty the bladder completely can lead to feelings of fullness and frequent urinary tract infections. For severe symptoms, many doctors will recommend enlarged prostate surgery that will result in immediate relief from symptoms. However, surgery of any kind is not without its share of risks and discomforts. If your doctor is recommending enlarged prostate surgery, it is important to know your options so you and your doctor can come to an agreement about the best type of enlarged prostate surgery for you.
Resection of the Prostate
This is the most common type of enlarged prostate surgery, and involves removing a part of the prostate through the urethra. The advantage to this type of procedure is that it leaves no scar. However, possible side effects of the surgery include urinary incontinence and sexual dysfunction. It is important to note that men with severe symptoms of an enlarged prostate also face these risks even if nothing is done to treat the condition.
Laser Treatment
In this type of enlarged prostate surgery, a laser is inserted through the urethra to destroy prostate tissue and reduce the size of the gland. This enlarged prostate surgery carries less risk of sexual dysfunction afterward and also requires a shorter hospital stay and less discomfort than other types of surgery. However, urinary incontinence is still a risk with this type of procedure.
Prostatectomy
This is the most invasive type of enlarged prostate surgery and is usually reserved for men with extremely large prostates. In this procedure, a surgeon removes the inner part of the prostate through an incision in the abdomen. Although this treatment requires the longest hospital stay and recovery time, it can be the most effective, permanent solution to an enlarged prostate.
If enlarged prostate surgery is in your future, it is important to know your options so you can discuss the best treatment with your surgeon. The good news is that most prostate surgery is considered a permanent, effective solution to the troublesome symptoms associated with an enlarged prostate. Talk to your doctor today, to find the best enlarged prostate surgery for you.
---
More On Prostate Tips...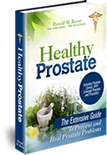 Healthy Prostate: The Extensive Guide To Prevent and Heal Prostate Problems
This ebook also includes everything you need to know about prostate cancer, BPH enlarged prostate and prostatitis.
Click Here To Check It Out
Share Your Thought
You must be logged in to post a comment.