An enlarged prostate is a normal part of the aging process for many men, much like grey hair and love handles. However, an enlarged prostate can also result in uncomfortable side effects, such as frequent urination, a weaker urine stream and even urinary incontinence. For this reason, many men seek a treatment for their enlarged prostate, which may range from an enlarged prostate medication to surgery to remove a portion of the gland. Most doctors will recommend beginning a course of enlarged prostate medication first, since it is one of the least invasive treatment options available.
In addition, the variation of medications offers many possibilities for treating this condition. If you are suffering from complications as a result of an enlarged prostate, read on for treatment options that can help you keep those symptoms in check.
Alpha Blockers
These types of enlarged prostate medication are also used to treat medical conditions like high blood pressure. However, they can also effectively treat an enlarged prostate by relaxing the muscles around the prostate so that urine can flow unhindered. The effects of this enlarged prostate medication are usually seen within a day or two. Because this type of enlarged prostate medication does not have any direct effect on the prostate gland, it is generally prescribed for men who have a moderately enlarged prostate. It will not work particularly well on an extremely enlarged gland. For this condition, a different type of medication is often used.
Alpha Reductase Inhibitors
This enlarged prostate medication reduces levels of the male hormone dihydrotestosterone, also known as DHT. When levels of this hormone go down in the body, the prostate gland also shrinks. This type of enlarged prostate medication will take much longer to work than an alpha blocker, with patients having to wait up to one year to see the full results.
However, improvement in urinary tract function may be seen in as little as three months and the medication may prevent the need for a more invasive prostate surgery. This medication isn't the best choice in men who are suffering with severe symptoms and want immediate relief.
If you are experiencing the uncomfortable symptoms of an enlarged prostate, there is help available. While some men fear that the only way to relieve these types of symptoms is through surgical procedures, medication provides a non-invasive option for many. Talk to your doctor at your next prostate exam about the benefits of enlarged prostate medication and say goodbye to bothersome side effects of an enlarged prostate once and for all.
---
More On Prostate Tips...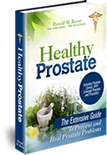 Healthy Prostate: The Extensive Guide To Prevent and Heal Prostate Problems
This ebook also includes everything you need to know about prostate cancer, BPH enlarged prostate and prostatitis.
Click Here To Check It Out