Prostate pain should never be ignored, as it could be a symptom of a serious condition. When a man starts to have prostate problems there are usually few early symptoms so the chances are feeling prostate pain may be an indicator that the condition that has caused the pain is at an advanced stage.
For this reason alone every man over the age of 50 should have an annual health check and be screened for signs of cancer. It is unusual for men to have prostate problems before this although not unheard of and if there is any family history of prostate problems such as prostate cancer then it is advisable to have checks from an earlier age. This should be discussed with your health care provider.
Today there are tests that are extremely accurate and can help diagnose any prostate disease in the early stages and before there is any prostate pain
If caught early prostate problems can be dealt with effectively and many men are cured of the problem before they get any prostate pain. Of course one of the main concerns where the prostate is concerned is cancer. Prostate cancer isn't the only condition that can cause prostate pain and these conditions can be treated effectively with different therapies.
Prostate pain usually occurs when you have a swollen prostate and the disease has started to affect other organs. Unfortunately many men wait until they have prostate pain before consulting a doctor and this can be too late for effective treatment.
It is unusual for prostate pain to be a constant pain. Many sufferers find that it occurs while urinating or having intercourse. Some find it difficult to urinate even though they have felt a great urgency, there may even be blood in the urine or semen.
Any prostate pain should be brought to the attention of your health care provider because if you have developed prostate cancer it can spread and if it does it tends to spread to the bones first. The bones will become tender and really sore. Most commonly affected are the pelvis and hip- bones.
If discovered early and treatment started most men will be able to return to a normal life. Those that are slow in turning to their health care provider will have a more difficult time but will still have a good chance of beating the disease.
A healthy prostate is a prostate that is looked after. Some may find it an embarrassing subject but when weighed up with the alternative a few minutes of embarrassment is far better than months of unpleasant treatments.
---
More On Prostate Tips...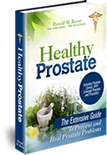 Healthy Prostate: The Extensive Guide To Prevent and Heal Prostate Problems
This ebook also includes everything you need to know about prostate cancer, BPH enlarged prostate and prostatitis.
Click Here To Check It Out
Share Your Thought
You must be logged in to post a comment.